A product of the Detroit area, Wayne State University, and Eastern Michigan University, Paul Reeves, Ed.D, has spent over 30 years as a professional educator and musician, as well as his work as a radio talk show host and author. 
In his world of education, a career that has seen him establish the largest and most decorated Band program in the Midwest (353 students per day!), as well as being a teacher of Mathematics, English, and Spanish. While serving as a K-12 teacher, it was normal to see his classroom filled with over 100 students each day before school, during lunch, and after school! During the administrative portion of his career, he was responsible for raising some standardized test scores by as much as 400%, while doubling and tripling most other test state scores; changing his school's inherited grade of "F" to "A" in assessments; raising his school's Report Card by two whole letter grades in two years; increasing enrollment by as much as 50%; serving as a statewide conference speaker on "Instructional Practices"; and leading an entire district to financial solvency, while improving curriculum, standardized test scores, technology, and instructional practices and always pursuing the students' best interests.
However, as much as he has enjoyed his career with students, his greatest joy came with his three blessings, a daughter and two sons. As you will read in his book, Dr. Reeves spent as much time as possible with his kids; took them to their activities; encouraged them to be successful, while showing them the way; attended their events; and tried to always be the rock of the family on whom his kids could rely while establishing their own paths through life. In addition to currently operating his school, Paul serves as a consultant to other schools, districts, teachers, administrators, and School Boards, mostly in the areas of instructional practices, curriculum, personnel, business practices, and staff development. And, of course, he works with multiple parent groups, so that they can also learn to raise their kids to be happy and healthy, while enjoying them to the fullest! 
As a regular columnist for newspapers and writer for educational journals, Paul's recent book, entitled "A Principal's Family Principles", is a reflection of his times with his own children, as well as with the kids and parents with whom he has worked as a Teacher and K-12 School Principal over the years. The book, which contains 85 stories that are geared toward providing timely advice for parents, is currently available through the BUY NOW link.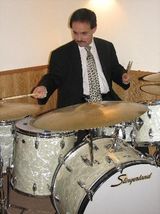 In Paul's music endeavors, in addition to earning 3 college degrees and working as a top-flight Band Director in the Detroit area, Paul Reeves has performed professionally since he was 16 years old with Jazz Bands (Big Bands and Combos), Pop Groups, Rock N' Roll Bands, Symphony Orchestras, and Chamber Ensembles, as well as a substantial amount of solo work. Paul credits his success in music to his terrific influences in life.
As he described it: "My mom and dad - I still don't know how they withstood my hours and hours and years and years of practicing in our home! Plus, I would have been lost without their moral, emotional, physical, and financial support (I still use my 'Buddy Rich' drum set that they bought for me when I was 15)!; Salvatore Rabbio - my private percussion instructor at Wayne State University in Detroit, he was a longtime member of the Detroit Symphony Orchestra, he encouraged me, challenged me, and wouldn't accept anything less than excellence for results; Donovan Hanson - my high school Band Director, he allowed me to develop my musical and leadership skills in marching band, symphonic band, and jazz band. In addition, he hired me to play with his own band … an unbelievable learning experience; Joseph Buono, my elementary and middle school band Director for a total of 6 years, Mr. Buono started me on drums in 4th grade and he encouraged me to always perform at my highest level at all times – he was a Band Director and a professional musician – he got me thinking in both directions at age 10! He continued to help and mentor me even after I became a Band Director!"
I was with Paul in the studio on several days to witness much of the recording for his CD's. After spending hours and hours in the studio with him and watching him record most parts in only one take, I quickly realized that Paul, Eleanor, Salvatore, Donovan, and Joseph did a tremendous job with their young protégé!
Paul has dedicated his musical endeavors to all of them, for without each of them, his career would not have been possible. Also, Paul says that he owes success in his CD endeavors to his family, too. As he put it, "No matter how busy they were, they always took the time to listen to the latest mixing of my CD's. They have been incredibly supportive of these projects and my crazy hours of recording, engineering, and mixing"!! On his CD's, Paul displays his virtuosity in music, as he wrote, arranged, played, recorded, and mixed all of the parts, including the Vibes, Drum Set, Auxiliary Percussion, Piano, as well as the Strings, Bass, and Guitar Keyboards. The final products are truly his own creations from beginning to end.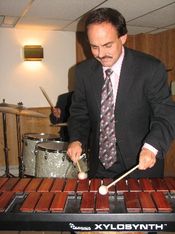 Paul's CD's, "Vibes in the Night" and "Christmas Vibes" are also available through the BUY NOW link.
While it was my good fortune to be with him in the recording studio to watch the projects unfold and become realities, it's now your good fortune to be able to sit back and listen to the wonderful talent of Paul Reeves, as you will sit back in amazement and then rise up and tap your fingers and toes! Enjoy! (Notes By: Sarah H. LaVerney)